In his superb book on short-story writing, A Swim In The Pond In The Rain, George Saunders describes completing the first story that, to him, felt like his.
After years of trying to write like Hemingway, he surrendered to his intuition and wrote a story his way. "There was an essential 'me-ness' in it", he says, "for better or worse, no-one else could have written it."
But Saunders was embarrassed by his story.
Compared to Hemingway, it sucked. "The story was oddly made, slightly embarrassing — it exposed my actual taste which, it turned out, was kind of working-class and raunchy and attention seeking."
Then, Saunders says this:
"…having gone as high up Hemingway Mountain as I could go, having realised that even at my best, I could only hope to be an acolyte up there, resolving never again to commit the sin of being imitative, I stumbled back down the valley and came upon a little shit-hill labelled 'Saunders Mountain'.
"'Hmm' I thought. 'It's so little. And it's a shit-hill.' But then again, that was my name on it."
📕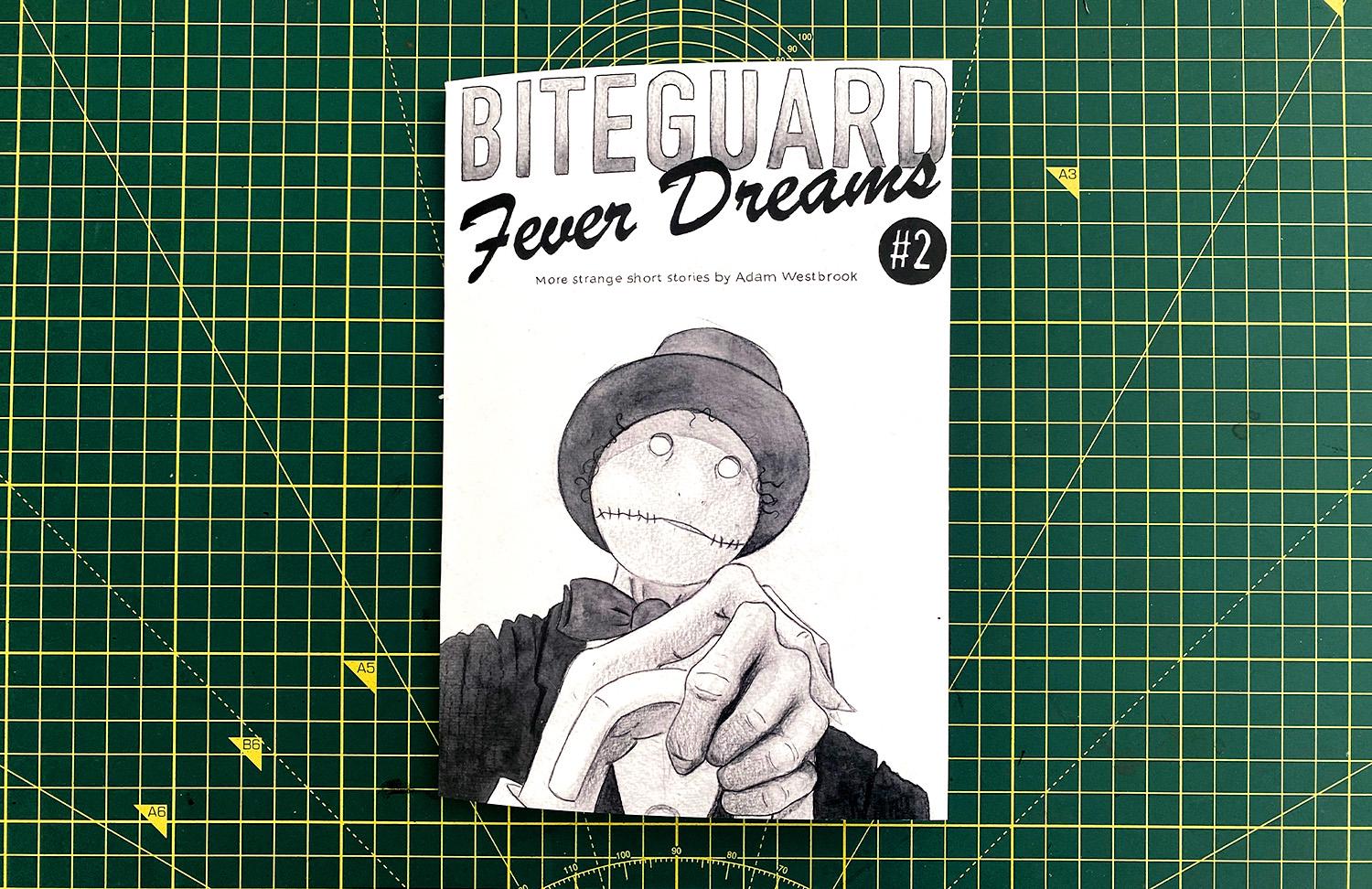 This is my funny little way of telling you that I have just published my second short-story collection!
Biteguard Fever Dreams #2 is now available to order here, shipping worldwide. It's a limited run of 100 copies, 24 pages at A5 size.
The zine is home to five stories, of between 1 and 8 pages. There is, I think, a nice variety in there: each story is very different in genre and form, and I've experimented with new materials and techniques too.
This time around, I thought I'd preview each story I've drawn in an attempt to whet your appetites. 😛
Connection Error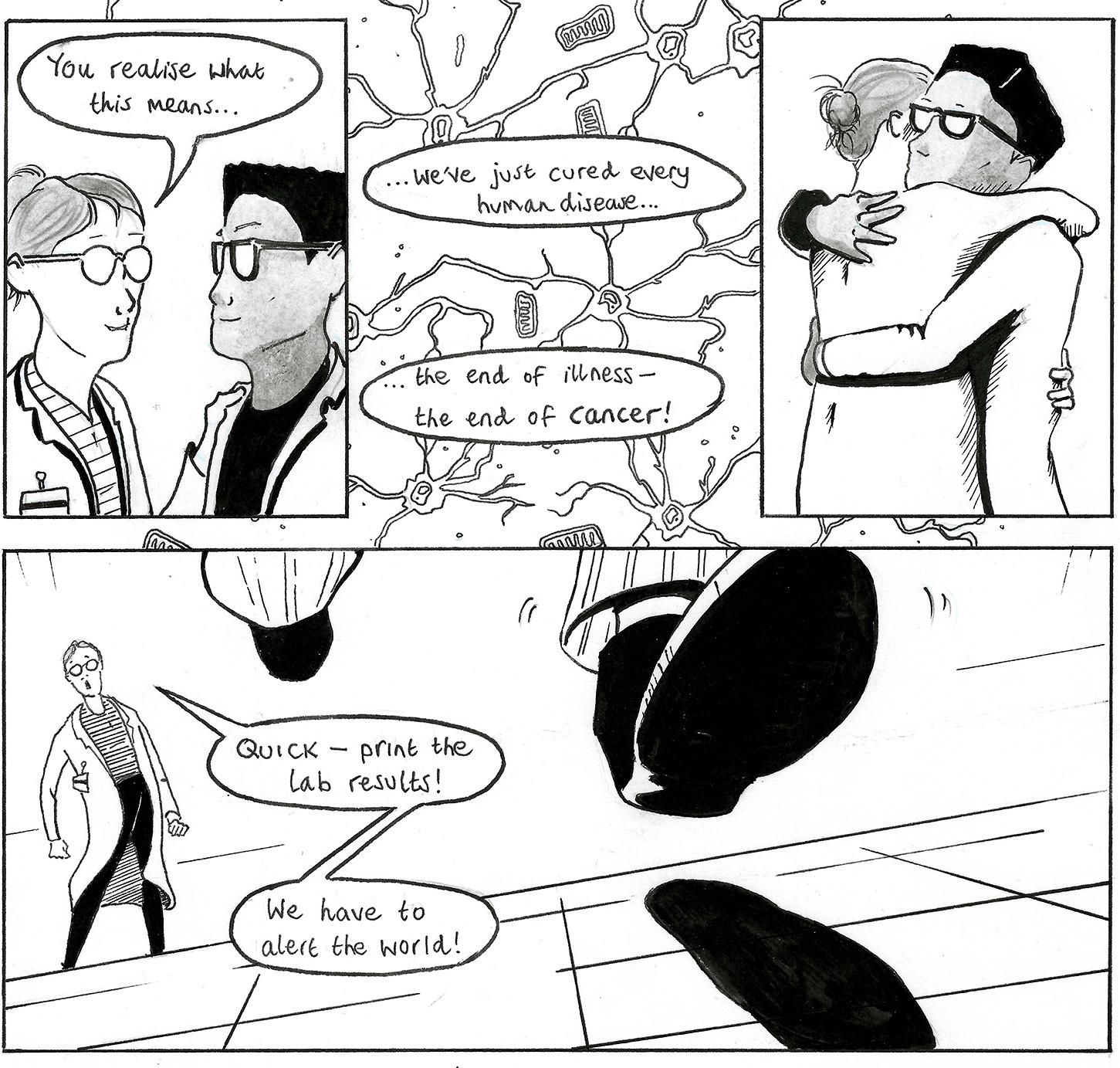 This was the first story I wrote, almost immediately after getting the first issue out the door last autumn and, to my surprise and delight, it was long-listed for the annual Manga Jiman award, a competition run by the Japanese embassy in London.
Connection Error is a farcical comedy set in the future. The theme of the contest was "connect" hence all the references to that idea in the story.
The story didn't come close to winning, but I giggle a little every time I re-read it. The characters are great and I think you're going to like it.
Amy In Paris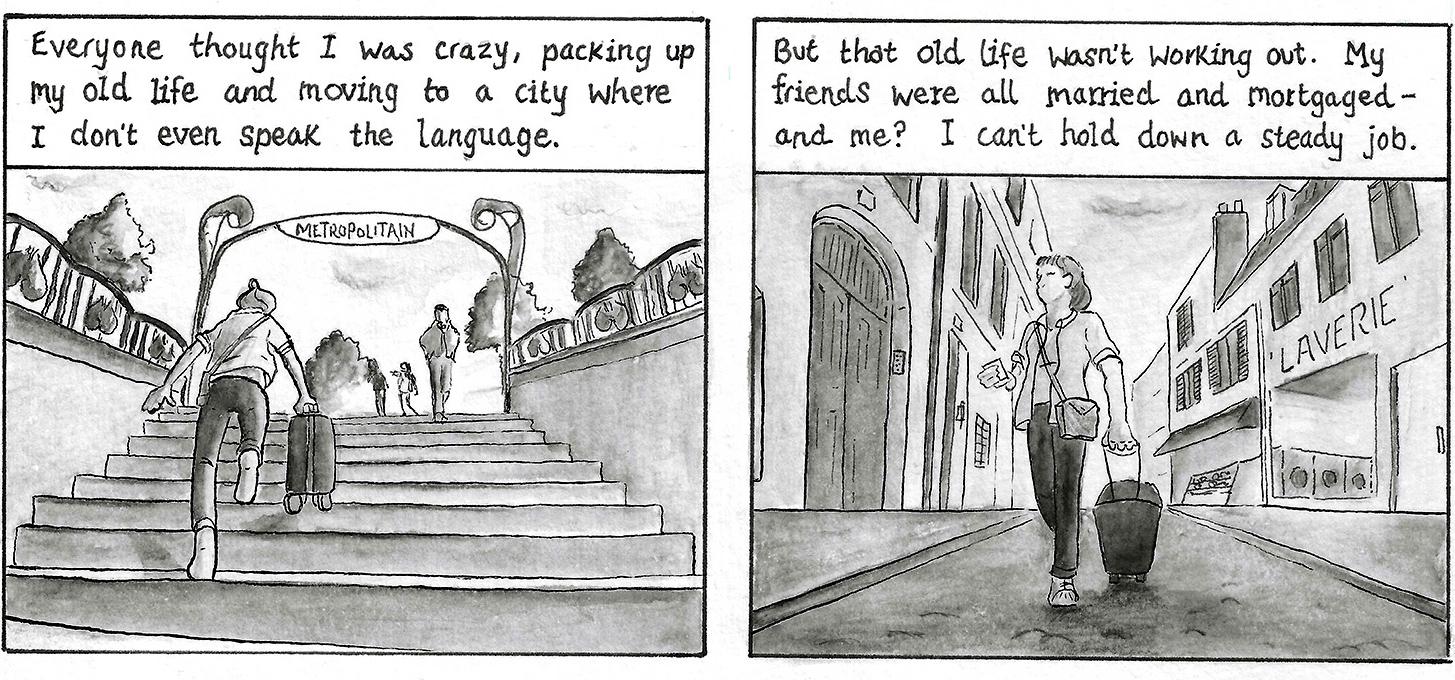 This story emerged from two desires: firstly to capture the feeling of my first months living in Paris ten years ago: the excitement and the loneliness; secondly, to try a kind of story which is less about plot and more about an internal state of mind. It tries to capture a stasis.
It's an environment piece, really: the setting is much more important than the character, and I've tried hard to make the images really feel like the Paris I know and love/hate.
iHammer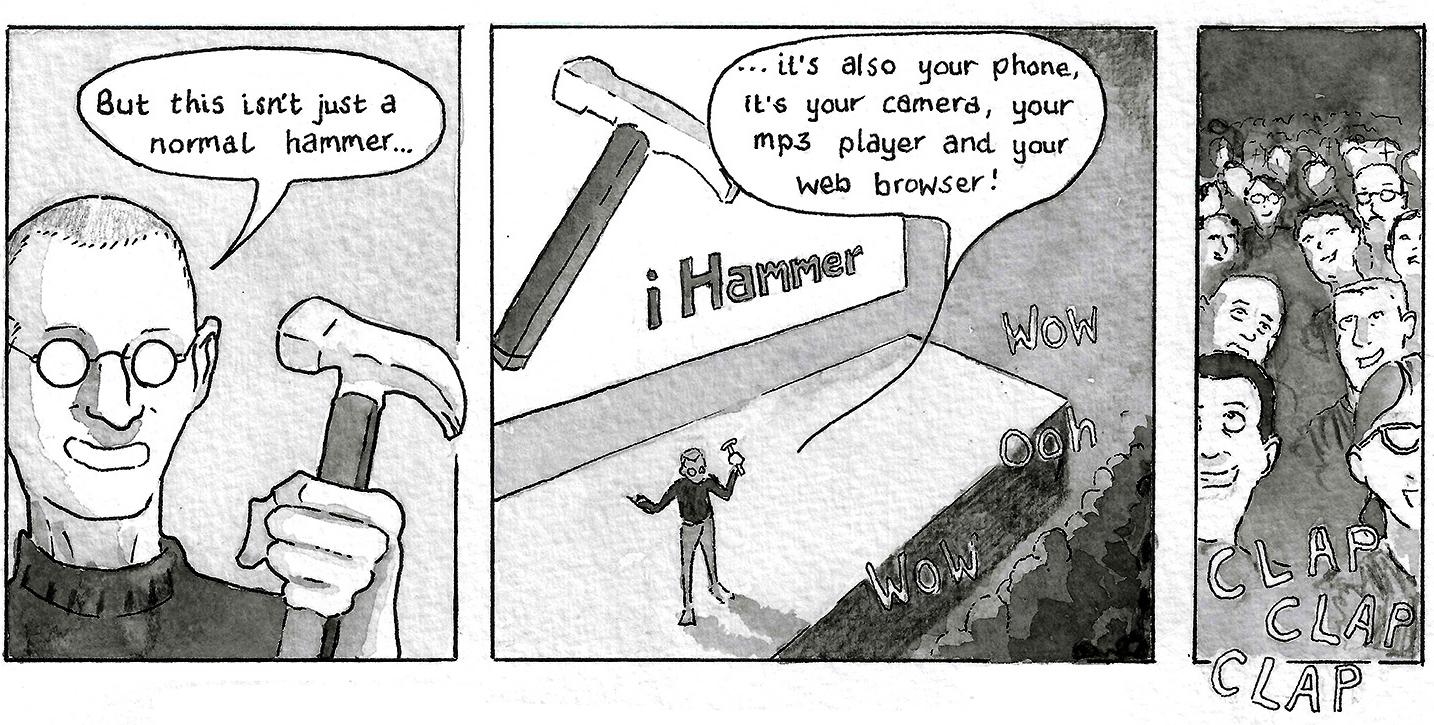 Lots of you wrote to tell me that your favourite story in Issue #1 was "The Circ-Tangle", a one-page satire about political polarisation.
This is my attempt to recreate that theme. It's basically an elaborate 4-panel gag: you can probably guess what happens next!
Pearls of Wisdom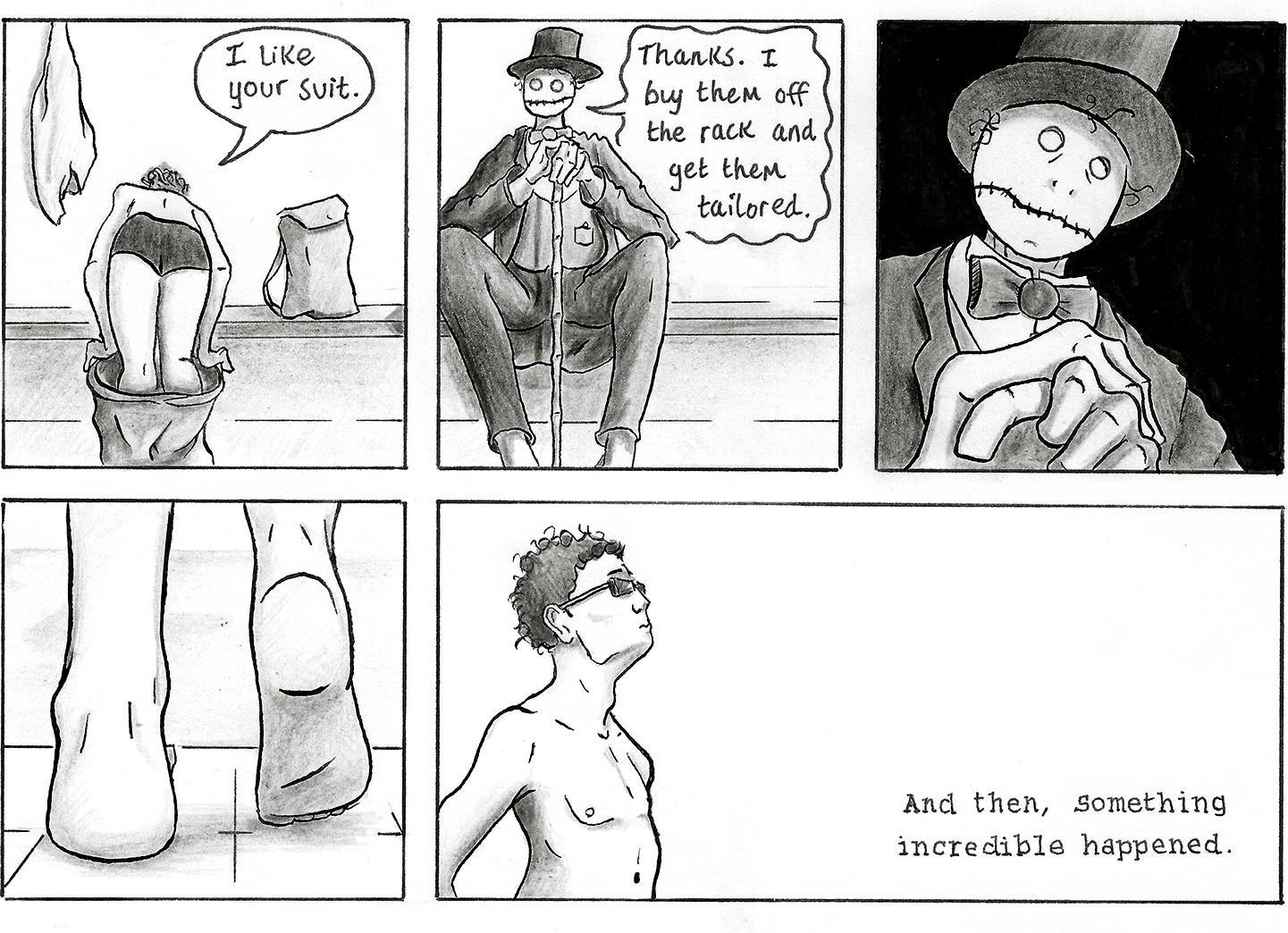 And this story is memoir: an intimate account of a quite-terrifying health scare I had last year. Everything resolved fine in the end, but I've never felt so bone-chillingly aware of my own mortality — it was life-changing.
Stylistically, I borrowed from the British illustrator Lizzie Stewart who combines panels with blocks of prose in her graphic novel Alison.
I put myself out there in this one: it's earnest and sincere and maybe even a bit cheesy; it contains a full-page panel which I think might be the best in the whole collection.
📕
Artists are incentivised to share only what is perfect. Even the 'process' videos I watch so many of on Instagram seem to begin when the drawing is almost finished!
And so yes, I'm a little embarrassed by my own shit-hill I'm sharing with you.
I don't say this to be humble or self-deprecating. I'm really proud of myself for shipping nearly 50 pages of original art and story in the last six months.
But what can I say? These little stories are all exactly what I wanted to say, exactly how I wanted to say them. They expose my flawed tastes and sensibilities. Maus it ain't. The artwork, completely hand-drawn, is strewn with wonky lines and amateurish strokes. I still can't draw faces!
But then again, it has my name on it.
Until another Sunday soon,

Subscribe to receive the next letter straight to your inbox!